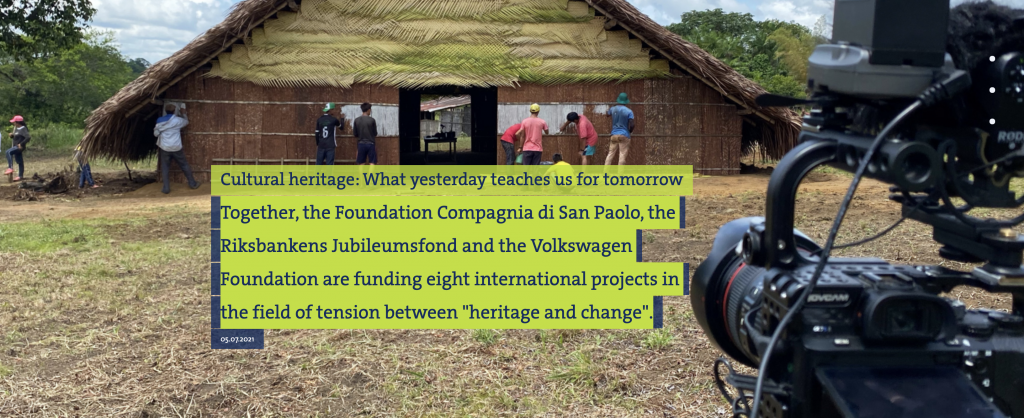 What does the natural and cultural heritage mean for indigenous peoples in the Amazon and how could a better awareness strengthen them against external influences? Are not the experiences and traces of migrants on the routes from Africa to Europe also to be considered cultural heritage, and does this not suggest a reconceptualisation of the concept of heritage? – These are two of many questions that illustrate how present and global the debate about our cultural heritage is.
As part of their joint call for proposals "Global Issues – Integrating Different Perspectives on Heritage and Change", the Foundation Compagnia di San Paolo (Italy), the Riksbankens Jubileumsfond (Sweden) and the Volkswagen Foundation now make a total of around 11 million euros available for eight new projects, five of which are funded by the Volkswagen Foundation.
Two projects that exemplify the research interests of the eight international teams are briefly presented below:
The project "Re-connecting 'Objects': Epistemic Plurality and Transformative Practices in and beyond Museums", for example, takes up the growing provincial research, especially in the case of exhibits from the colonial period. Prof. Dr. Bénédicte Savoy (Technische Universität Berlin), Prof. Dr. Albert Gouaffo (University of Dschang, Cameroon), Prof. Dr. Dan Hicks (University of Oxford, Great Britain), Dr. El Hadji Malick Ndiaye (University Cheikh Anta Diop de Dakar, Senegal) and Prof. Dr. Ciraj Shahid Rassool (University of the Western Cape, South Africa) are striving for new models of dealing with artefacts and intangible heritage: In doing so, they want to learn from existing practices on the African continent and develop symmetrical structures for cooperation and exchange. Among other things, they are investigating alternative forms of storage, handling of objects and presentation in African and European museums.
The project "Heritage and territoriality: Past, present and future perceptions among the Tacana, T'simane and Waiwai" focuses on the perspective of three indigenous peoples in Bolivia and Brazil's Amazon basin. The project team led by Dr. Carla Jaimes Betancourt; Prof. Dr. Karoline Noack (both University of Bonn), Dr. Lilian Painter (Wildlife Conservation Society, Bolivia) and Prof. Dr. Carlos Dias Junior (Federal University of Amazonas, Brazil) aims to understand the complexity of the term "heritage" on the basis of local indigenous knowledge, to design ways of collective learning about natural and cultural heritage, and to introduce indigenous approaches to the Western understanding of heritage and how to deal with it, for example in the protection of sites. The aim is to bring together different conceptions of heritage around archaeological sites and materials, as well as ethnographic collections and landscapes of the region. In perspective, the researchers want to help protect indigenous peoples' territories by preserving heritage in all its facets, and thus also make communities more resilient to the consequences of global problems. Read more in the press release by University of Bonn.
The Volkswagen Foundation also supports the following projects:
Prof. Dr.-Ing. Frank Lohrberg (RWTH Aachen University, Germany); Prof. Makoto Yokohari (The University of Tokyo, Japan); Prof. Oekan S. Abdoellah (Padjadjaran University, Indonesia); Prof. Dr. Luciana Itikawa (Centro Universitário das Faculdades Metropolitanas Unidas, Brazil); Prof. Dr. Jorge Pena Díaz (Technical University of Havana, Cuba): "INSUAH – Integrated Study on Urban Agriculture as Heritage"
Prof. Dr. Nicolò Marchetti (Università di Bologna, Italia); Prof. Khalid Salim Ismael (University of Mosul, Iraq); Dr. Farhod Maksudov (Uzbek Academy of Sciences, Uzbekistan); Prof. Dr. Adelheid Otto (Ludwig-Maximilians-University Munich, Germany): "KALAM. Analysis, protection and development of archaeological landscapes in Iraq and Uzbekistan through ICTs and community-based approaches" (read more in the news by LMU Munich)
Dr. Girma Kelboro Mensuro (University Bonn, Germany); Dr. Abiyot Legesse (Dilla University, Ethiopia); Dr. Eric Kioko (Kenyatta University, Kenya): "Local Dynamics and Integration of UNESCO World Heritage Sites of Outstanding Universal Value: Evidence from Cultural Landscapes in Ethiopia and Kenya" (read more in the press release by University of Bonn)
The following projects are supported by Compagnia di San Paolo and Riksbankens Jubileumsfond (RJ):
Prof. Dr. Christiane Brosius (University Heidelberg, Germany); Dr. Sabin Ninglekhu (Social Science Baha, Nepal); Dr. Stefanie Lotter (School of Oriental and African Studies, University of London, Great Britain); Prof. Dr. Sasanka Perera (South Asian University, India): "Heritage as Placemaking: The Politics of Solidarity and Erasure in South Asia" (RJ)
Prof. Dr. Luca Ciabarri (Università degli Studi di Milano, Italia); Dr. Fatma Raach (University of Jendouba, Tunesia); Dr. Amira Ahmed (American University, Kairo, Egypt); Dr. Rachel Ibreck (Goldsmiths, University of London, Great Britain): "Traces of mobility, violence and solidarity: Reconceptualizing cultural heritage through the lens of migration" (Compagnia)
Dr. Susanna van der Watt (KTH Royal Institute of Technology, Stockholm, Sweden); Dr. Lizabé Lambrechts (Stellenbosch University, South Africa); Dr. Fernanda Pitta (Pinacoteca do Estado de São Paulo, Brazil): "Decay without mourning: Future-thinking heritage practices" (RJ)
Based on an international peer review, interdisciplinary research projects were selected in which the perspectives of researchers and participants from different countries are brought together. In addition to a main applicant from Germany, Italy or Sweden, at least two partners from low- or middle-income countries outside Europe are involved in every project. Investigating the respective topics from different perspectives seems particularly profitable, as cultural heritage creates identity across national borders. Moreover, it is exposed to similar threats worldwide, so transnational approaches to solutions are in demand. Whether digitalisation, environmental changes or globalisation – with regard to the major transformation processes of the present, the topic of culture is usually given little consideration. This is one of the reasons why the thematic field was defined for this call.
Background
This call for proposals is part of the international funding programme "Global Issues – Integrating different Perspectives", which aims to generate new insights into hitherto little-researched challenges of global relevance. Formally, this funding offer combines various calls for proposals which, although they have different thematic orientations, are all oriented towards topics that have been characterised as global challenges with a particular need for action within the framework of the United Nations' "Sustainable Development Goals". The programme is anchored at the Volkswagen Foundation in the profile area of social transformations.
Link: https://www.volkswagenstiftung.de/en/news-press/news/cultural-heritage-what-yesterday-teaches-us-for-tomorrow