The Cameroonian-German research project explores the forms and consequences of cultural property relocations from the former colony to Germany. On the one hand, the project title 'Reverse Collection History' points to the classic museum-historical dimension of the project. On the other hand, it refers to the scientific-political, methodological and theoretical claim of a research that, starting from Africa, for the first time carries out a change of perspective and asks a) about the whereabouts of Cameroon's material heritage in European countries – here in Germany – as well as b) about the traces that the absence of this heritage in Cameroon has (or has not) left behind. The joint project thus focuses on the dialectic of the presence and absence of singular objects in the places where they are today (museums) and in those where they originally were.
To achieve the project's goals, a comprehensive inventory of colonial-era Cameroonian object holdings in German museums as well as their contexts of origin in Cameroon will be undertaken. Such an overview of Cameroon's rich material and artistic heritage outside of Cameroon has been lacking until now, with the result that no precise knowledge and discourse about these collections has been able to develop in the country itself over the past decades.
The inventory just described is followed by an investigation of the consequences associated with the translocation of the colonial-era object collections. Through selected case studies, the reception (or lack of reception) of the objects present in German museum collections will be investigated. On the other hand, the consequences of the withdrawal and the permanent absence of the objects in Cameroon as well as local forms of resilience will be recorded. By analysing the Cameroonian way of dealing with the loss of the objects, the data collected in the inventory can be embedded in a multi-perspective context commented on by the Cameroonian societies of origin. The results of the inventory will be documented in the form of an atlas of Cameroon's material heritage in German museums.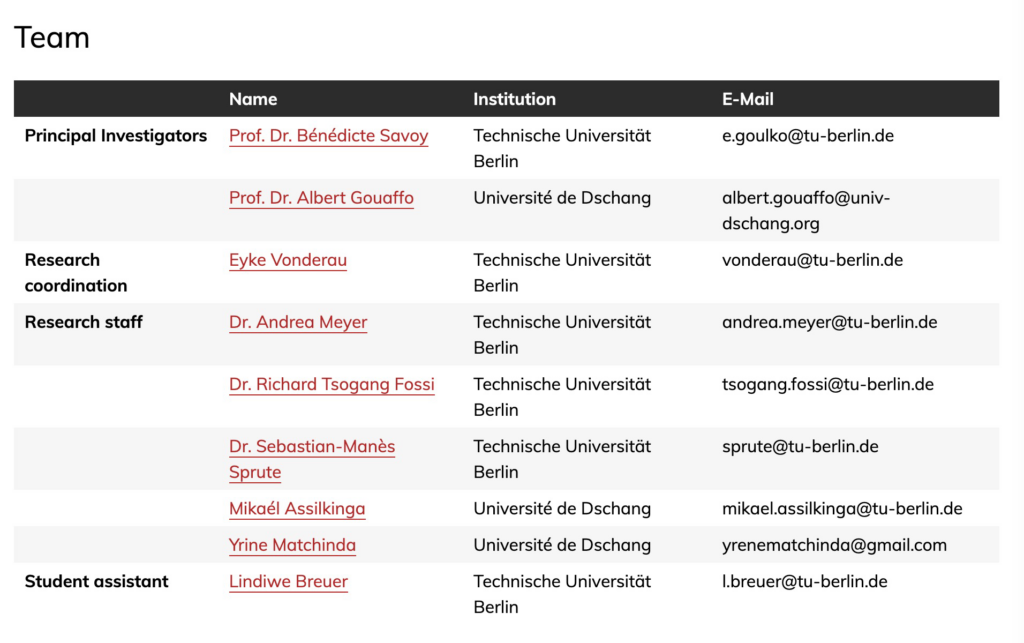 Link : https://www.tu.berlin/en/kuk/research/projects/current-research-projects/umgekehrte-sammlungsgeschichten-mapping-kamerun-in-deutschen-museen